To inquire about a short block, or other parts, please use our Engine Inquiry Form 
Links to Engine Specifications and Line Drawings for Briggs & Stratton, Tecumseh, Robin Subaru, Kohler, Honda & Kawasaki Small Engines.
Note: This page is for informational purposes only. You agree by using this website that we are in no way responsible for injury that occurs from using any of the pages within.
Compliance positive stop is essentially a kill switch. If you have a handle on your mower that has to be held down, and if released, the engine is killed then you have compliance positive stop. Compliance positive stop is a safety feature that stops blade rotation in situations where it's obvious that blade rotation could cause injury. (i.e. The operator no longer has direct control of the machine.)
In order to use a compliance engine to replace a non-compliance engine a kill switch is required. (Note: Equipment that has Non-compliance engines lack the safety feature of compliance engines and the following procedure WILL NOT provide said safety features. Injury may occur by using equipment in this manner and new equipment may be warranted. Basically we are saying you are on your own in performing any procedure on this page or in using equipment without the latest safety features.)
First, you have to wire the compliance switch to the "Run" position. For illustrative purposes I'm using a Briggs & Stratton Vertical shaft, electric start engine. Model 125K07-0274.
First you'll remove the spring, then wire it open (It will move toward the spark plug on this particular engine and there is a hole for where the cable would normally come through.)
The 2 holes I'm talking about are where the spring attaches on the left & the one to the left of that.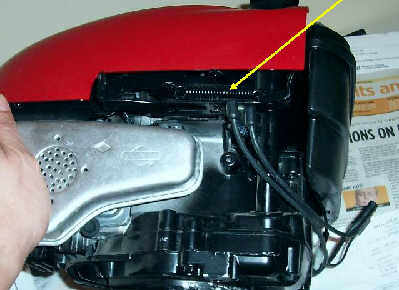 That will allow the engine to start & run. Now I'm not an expert in wiring so I'm going to have to ask you to call your engine manufacturer's technical support line to speak to a technician there to get instructions and so you feel comfortable.
Next you will need to wire a Go-Kart type kill switch. You can find these pretty cheap locally. Normally they run about $3.00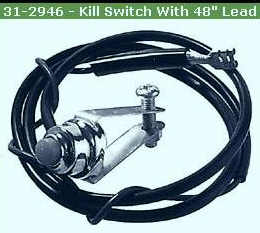 Since there are many different engines you need to call a technician & be comfortable with the wiring, but the stop switch should go to the wire in the middle of the plug. The other 2 wires would go to your battery; The one with the fuse to the positive & the other to the negative terminal.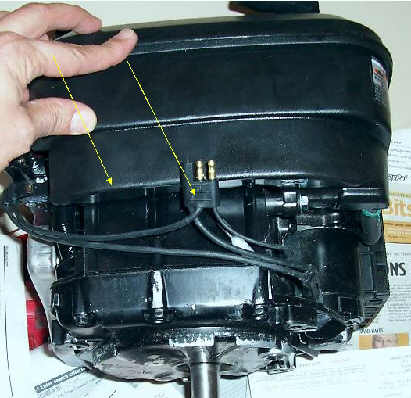 This will allow you to start & run the equipment, using the kill switch to kill the engine when it does not need to run. (NEVER LEAVE POWER EQUIPMENT RUNNING UNATTENDED! ALWAYS KILL THE ENGINE. THE RISK OF INJURY IS NOT WORTH THE SMALL INCONVENIENCE OF HAVING TO START THE ENGINE AGAIN!!!!!!!!!!!!!!)