Kohler CH740-3117 25 HP CH740S EXMARK - LAZER Z - ZTR
Our Price $

2479.99

Retail Price $2898.68

Kohler CH740-3117 25 HP
SUPERCEDES CH740-0075 27 HP CH740S EXMARK - LAZER Z - ZTR, PA-CH740-0054, CH740-3175
Has Heavy Duty Air Cleaner
Uses Crankshaft 24 014 06-S
1-1/8" x 2-3/4" (PTO Mtg Face) = 28.55 mm x 70.8 Crankshaft, Drilled & Tapped 7/16-20
Electric Start
15 Amp Alternator
Has front drive shaft 24 755 08-S
Has Pulse Fuel Pump, Oil Filter, Oil Cooler & Oil Pump
This engine can replace the 25 HP Kawasaki on JD737 or JD757 ZTR. You will need the following parts to go with it:


Muffler 24 068 129-S aka 24068129s
Exhaust Elbow 12 054 02-S aka 1205402s
Elbow Clamp 47 237 04-S aka 4723704s
Diode Kit 25 755 40-S aka 25755540s
Modification Kit: JD737-757 - Has Mounting Template (One hole needs to be drilled), Plug & Play Wiring Harness, Instructions
If you are considering this swap please email us & we will check stock & price everything required for the swap
Shipping Weight = 120 lbs
This engine is shipped via truck to a business address or the nearest terminal. Residential Delivery is $95 more. Residential delivery charges, if any, must be collected after the order (The website has no way to charge the extra residential delivery fee)

To view our shipping policies, click here.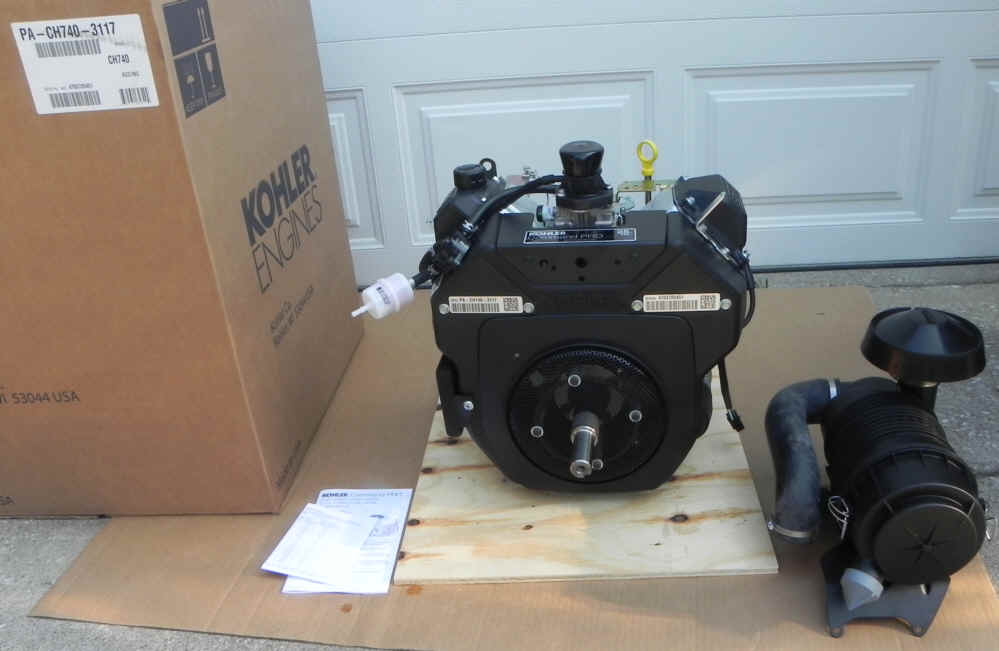 Our Price $2479.99
Retail Price $2898.68


Owners Manual
Note: May be for similar model
Brand: Kohler