Kohler ECH749-3083 26.5 HP Command Pro EFI Grasshopper
Our Price $

2379.95

Retail Price $2911.31

Kohler ECH749-3083 26.5 HP Command Pro EFI Grasshopper
1-1/8" x 3.35" Crankshaft with 1/4" Keyway, tapped 5/8-18
Heavy Duty Air Cleaner
Electric Start With 15 amp Alternator
Has Oil Pump & Cooler
Has Muffler 24 068 139-S aka 24068139s
Has Front Shaft 24 144 23-S aka 2414423s

Features

Easy Dependable Starts.
Optimized fuel injector placement and intelligent sensor pack deliver fuel wherever and whenever there is a demand for power
No-choke starting even in cold weather, when engine is hot or after long periods of storage
Less downtime and less maintenance for the life of the engine
No messy, gummed-up carburetor to clean or adjust

Increased Efficiency.
Capable of saving up to 25% in fuel over similar-size carbureted engines
Advanced oxygen sensor analyzes the exhaust's air/fuel mixture
Upon analysis, the oxygen sensor adjusts the air/fuel mixture for optimum fuel efficiency
On top of the savings, you'll also refuel less, increasing your overall efficiency
Lowest Operating Cost.
Fast payback for your investment

Kohler EFI Fuel Savings Calculator



Includes:
Engine mounted canister air cleaner
Full three year commercial warranty

Must buy one of the 3 muffler kits listed below:


24 786 32-S (Filter Side outlet - Most Common)
24 786 33-S (Center Side Outlet)
24 786 31-S (Starter Side Outlet)
Shipping weight 120 lbs
This engine is shipped via truck to a business address or the nearest terminal. (NO EXCEPTIONS) Residential Delivery is $95 more.
Residential delivery charges, if any, must be collected after the order (The website has no way to charge the extra residential delivery fee)

To view our shipping policies, click here.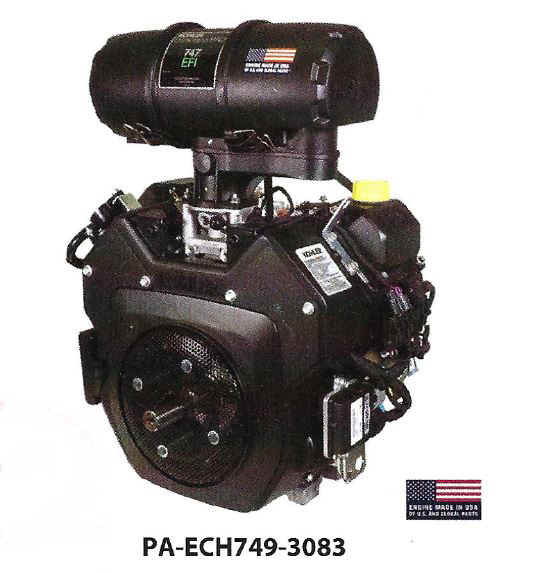 Our Price $2379.95
Retail Price $2911.31


Owners Manual
Note: May be for similar model
Brand: Kohler